Tanzanian President John Pombe Magufuli has not been seen for two weeks and according to unconfirmed information, he is said to have fallen ill with Covid-19 and flown out of the country for treatment. Global Bar Magazine investigated the rumors and followed up on a possible medical evacuation to China.
Update: Tanzanian authorities has (210317) confirmed that Magufuli has passed away.
This is an updated version: according to non-confirmed media reports Magufuli never left Tanzania and is in a hospital in Tanzania. This is a translation from the original text which is in Swedish
Normally we do not follow up up on rumors but when authorities, that sit on the facts refuse to comment on simple facts such as the missing of the head of state, rumors will continue to be spread. And often rumors are used by authoritarian regimes. Professor Nic Cheeseman wrote this in a tweet a day after our original publication:

John Pombe Magufuli has run a unique policy when combatting Covid-19. Tanzania has not registered a single case of Covid-19 since May 7, 2020 and Magufuli declared that the country would no longer conduct any testing of the Covid-19 virus. He also declared that Tanzania was free from Covid-19 and ordered airports, schools and markets to open. Many in Tanzania have expressed great fear of mentioning Covid-19, even fearing to write the words "Covid" or "Corona" in text messages.
For a while it looked like this was a successful strategy. The rate of infections seemed to have diminished and the death cases reported earlier seemed to have gone down to normal. Hospital beds were available. Even though Tanzania held massive election campaigns where hundreds of thousands of people all over the country came to see their respective candidates.
However, that would change. Since a couple of months ago, Tanzanians noticed people getting ill from respiratory diseases, hospitals were filling up and many suspected it was a second wave of Covid-19. The US embassy issued a health warning for Tanzania on February 10 because the spread of the infection was so serious.
A source who, who for security reasons wish to remain anonymous, tells Global Bar Magazine that health care workers in Tanzania discovered a sharp rise in cases of what looked like Covid-19 in February. The intensive care units were overcrowded, hospitals ran out oxygen and funerals increased threefold.
Then several prominent people in Tanzania died of what is suspected to have been covid-19. In mid-February, Zanzibar's Vice President Maalim Seif Sharif Hamad died. The following week, it was announced that the former Governor of the Central Bank, Benno Ndulu, had died of complications of what people suspect was Covid-19 and subsequently his Deputy Governor. Then ambassadors, opposition politicians, Government officials died, one after another.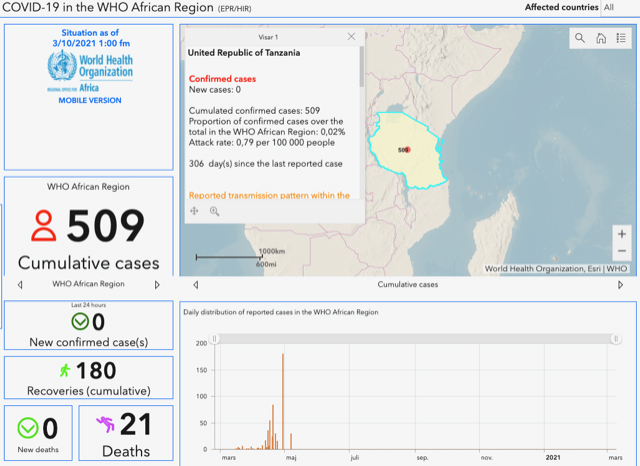 Then two weeks ago, the country's authorities seem to have changed the policy. The country's health minister now instructed the population to follow the WHO's recommendations on social distance, use face masks and stay home for symptoms. But at the same time, the Minister of Health continues to recommend herbs and steam baths…
It has been two weeks since President John Pombe Magufuli appeared in public. He has missed two Sunday church sermons, something he regularly attends. There is no official information on whether the president is ill and should have left the country. Reuters published an article in which no one from the president's staff answered questions about whether Magufuli was ill or not.
Tanzania's ambassador to Sweden, Wilibrod Slaa, denies the information to Global Bar Magazine and claims that the information he has been given is that the president is well and fulfilling his duties as usual.
Ambassador Wilford Slaa, who among other things has been on a panel in Global Bar, claims that the rumors started in Sweden with an article in Sauti Kubwa, a newspaper published by a Tanzanian journalist, Ansbert Ngurumo, who is a refugee in Sweden. Today, Wednesday afternoon, the BBC and Reuters further published the news that Magufuli may be ill.
Opposition leader Tundu Lissu, who ran in last October's election against John Pombe Magufuli, wrote that the people have a right to know if the president is undergoing treatment. On twitter, he writes that "they plan to sneak him to India to avoid shame if the worst should happen".
According to Tundu Lissu, Magufuli was on his way to India for treatment. India is also mentions by others as a possible destination for the president's trip.
Global Bar Magazine followed up on the information that the President may have been relocated to care outside Africa. A plane from China Southern Airlines left Nairobi at 14:24 local time on March 10. It was at that time that some sources stated on twitter that Magufuli would have left Nairobi for India. The plane has no official departure time and arrived in Nairobi from Changsha in China early in the morning of March 10. This plane has no destination and usually flies between different cities in China. The plane is now on its way to China. With or without the president.
But now as new unconfirmed information comes in it seems that Magufuli may have been in Tanzania all the time. But where is he? And how is his health?
Petter Bolme