At least 15 people have lost their lives and more than 500 have been arrested during four days of violent protests in Senegal. The protests started on Thursday June 1st, 2023, when opposition leader Ousmane Sonko was sentenced to two years in prison for "seducing a minor" by a tribunal in Dakar.
When the news spread about the verdict on Thursday, Ousmane Sonko's young supporters took to the streets to express their anger. They were met by live bullets and teargas.
While Senegalese authorities have confirmed 15 dead, and more than 500 protesters arrested, Human Rights organizations claim there are several more dead, and hundreds of injured in hospitals around the country, including many minors. Children have been taken into custody by police and beaten violently, with several videos as proof. Pictures and videos on social media are showing "nervis", armed men in civilian clothing believed to be mercenaries on the payroll of the government party, making rounds in government owned white Toyota Pick-ups, shooting at demonstrators.
Violent clashes
Universities, schools, and shops were shut as the demonstrations turned into violent clashes. Social media, and a private media channel, Walf TV, were closed down by the government in order to "prevent them from spreading subversive messages, inciting violence and hate". On Sunday the 4th of june, as the opposition called for a massive demonstration, the internet was closed down completely.
We spoke to several young people in Senegal who were in deep chock after the many violent scenes they had witnessed. They told us that except for the capital Dakar, cities like Thies, Kaolack, Bargny, St Louis in the north, and Ziguinchor in the southern province Casamance – Sonko's hometown – had been rocked by the protests. Social media has been flooded with pictures of young people just killed, bleeding, severely injured by bullets, even of children being used as shields by soldiers or being violently beaten while taken into custody by police and men in civilian clothing.
None of those we talked to wanted to reveal their names or locations. Their fear of violent retribution being evident since news broke about the arrest of Aliou Sané, coordinator of the movement Y'en a Marre (We've had enough) on May 29th, then Bentaleb Sow and Tapha Diop from the movement FRAPP on May 31st, Moustapha Diop from FRAPP on June 1st, and then Pape Abdoulaye Touré, student, and a leading oppositional youth with a strong social media presence in Senegal. Pictures of Pape Abdoulaye Touré have made it to social media, showing him severely beaten up and in handcuffs after being taken into custody.
"Prisoners must be released"
Amnesty international has called on the Senegalese government to cease arbitrary arrests, and unconditionally release all those being detained because of their political activities. The international community, including the neighboring country Gambia, ECOWAS (the Economic Community of West African States), the African Union, France and the USA, have made statements appealing to the Senegalese government to stop the violence and let everyone be free to express their point of views.
The political opposition has labelled the legal process against Sonko, which has been going on for two years, "a fraudulent set-up". They claim the government has put pressure on the legal system to convict Sonko so that he won't be able to participate in the elections 2024. Sonko was the third most popular candidate in the last elections, with 16% of the votes, and many young supporters. But since accusations of rape took him to court in 2021, although he has now been freed from the original accusations, the new turn in the case might stop him from being a candidate in the elections 2024.
Sonko was not present in person at the tribunal on Thursday since he's being kept in house arrest. An order for his detention has not yet been confirmed. According to Sonko's lawyer, there is still a possibility to appeal the sentence, but Sonko has to go to jail first.
Senegal, a West African country that for many years took pride in being one of the most peaceful countries in Africa, has a former long tradition of non-violence and freedom of speech. But during the last years, in a run up from 2021, when many young people lost their lives during the demonstrations against the arrest of Ousmane Sonko, the political climate has changed drastically. An increasing number of journalists and Human Rights activists have been exposed to threats from the government, and in 2022 the country's ranking in the Press freedom index managed by RSF, Reporters without borders, dropped from 49th to 73rd out of 180 countries. This year, in the Press Freedom Index of 2023, Senegal has dropped down further to 104rd place just above Qatar, with the motivation that "an increase in verbal, physical, and judicial threats against journalists is fuelling concern about a decline in press freedom".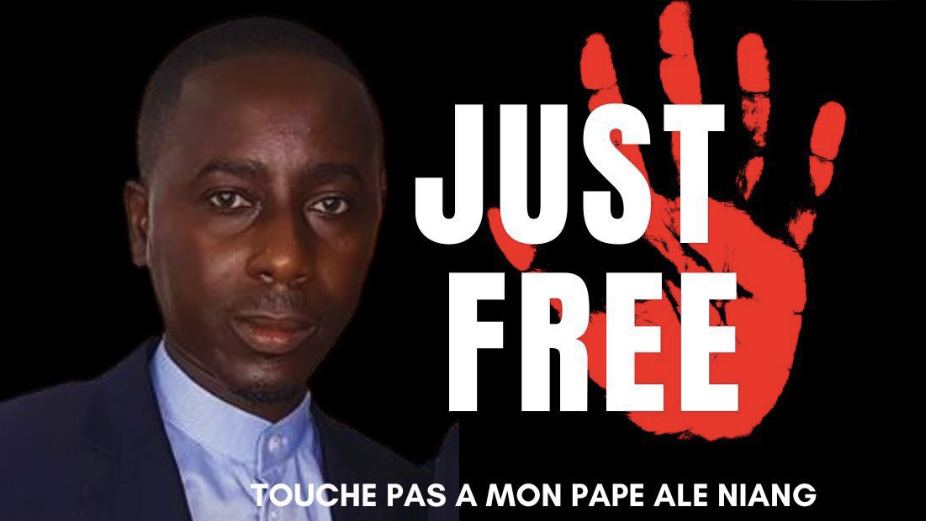 Investigative journalist jailed
In November 2022 the journalist Pape Alé Niang, Editor in Chief of the news portal Dakar Matin, was arrested charged with "endangering national security", and "disseminating false news", for reporting about among other things corruption exposed by a global network of investigative journalists, the OCCRP, Organized Crime and Corruption Reporting Project. Pape Alé Niang was released in January, after an intense campaign by international media organisations, but the charges are still pending.
OCCRP has digged out several stories about corruption in Senegal and have the documents to prove them. Affairs that have been covered by the OCCRP are dealings in Senegal's offshore Oil reserves, the story of a former Senegalese foreign minister believed to have taken part in two multimillion bribery schemes, and then one of the more illustrious scandals – a 77-million-dollar weapons deal signed in 2022 by the Minister of Environmental affairs with a non-governmental weapons dealer formerly accused of skimming the government in his native Niger. The deal included thousands of assault weapons.
The political unrest has also directly impacted the neighbouring country Gambia, which is heavily dependent on imports of electricity from Senegal. Outages as a result of the protests in Senegal have caused economic disruption and significantly hindered daily life in the neighbouring country since 2021. The Gambia has asked for help from ECOWAS to mediate the situation.
During the demonstrations the last four days the protesters have demanded the resignation of Macky Sall, the current president of Senegal. If he decides to stand for elections in 2024 his candidacy would be in breach of the constitution according to the opposition, which is another reason for the protests.
Macky Sall has not yet confirmed if he will be a candidate in the elections 2024.
Aminata Grut
Read also