COLUMN. My friend Father Aho has been convicted of terrorism or, more properly, of membership in a terrorist organization. The penalty is two years and one month in prison. Why was he convicted? For giving bread and water to people who visited his monastery in the Southeastern Turkey, writes Nuri Kino, investigative journalist and founder of the organization A Demand for Action in this column about what is happening right now in Turkey. The text has previously been published in Swedish.
This is a column. The views and opinions expressed in this article are those of the author.
He was convicted. For terrorism. For real. To 25 months in prison. He will serve time with terrorists, murderers and other violent criminals. Then there are also innocent convicts there, just like him. The reason for the punishment is that he fed monastery visitors bread and water. When he was arrested in early 2020, he confessed immediately. The interrogator asked if it was true that he had given food to people unknown to him. He replied, of course, that this was the case. The court in Southeastern Turkey, the part of the country previously inhabited by the majority of Assyrians / Syriacs, Armenians and Yezidis, considers it treason against the state. The people the interrogator asked about were members of the PKK (Kurdish Liberation Party) branded a terrorist group by the Turkish state.
When I told my friend Stina here at home in Sweden about the verdict, her spontaneous reaction was: "He will be useful there, maybe it's good, maybe it was meant to be." It took a while before I understood what she meant, that Father Aho will surely practice spiritual counselling among the imprisoned.
My friend Father Aho (Sefer) Bileçen. The little humble young man who left his glamorous life in Istanbul to serve where he was most needed. He had already lived a whole life when he decided to become a monk. He was tired of everything else, of the constant pursuit of money, confirmation and attention. He felt called to a more spiritual life. He began to study classical and modern Aramaic, what also called is called Syriac. "If you master the written language, there is a goldmine of hundreds of years, even thousands of years old texts filled with philosophy, theology but also psychology." At a lunch in Beirut in the spring of 2014, I asked what he wanted with it, with his new life. He replied, "to be allowed to serve where one earns the least." He was in Lebanon to participate, just like me, in the election of a new patriarch to one of the oldest churches in the world, the Syriac Orthodox Church. The church we were both born in and belong to, where people still pray in Jesus' mother tongue, Father Aho's and my mother tongue. Then came the ISIS genocide of Christians in Syria and Iraq and I became preoccupied with it and never had time to keep my promise to him, to visit his monastery. Because he had sought and found. He went up into the mountains, to the place that few others dared, where there had been a war between the Kurdish PKK and the Turkish army for decades. Many advised him against it, but he considered himself called. He would reopen the hundreds of years old monastery, build and renew it. Many warned him that he would be caught in the crossfire between the warring parties. But it was not something he thought concerned him, the war, that is. Now he became its victim. If he did not give food to the PKK members, they might have interpreted it as if he was on the side of the government… and vice versa.
Before the 1915 genocide, the area was inhabited mainly by Christians in the area of Turabdin (Mountain of God's Servant). It was one of the most monastic and church-dense areas in the world. I was born there, in the city of Midyat. We are descendants of the few survivors who refused to leave. But oppression and persecution as well as our parents' dreams that one day we would have the opportunity to educate ourselves and perhaps even become equal citizens with the majority population in some country somewhere drove us to flee. Today, a remnant of 3,000 Assyrians / Syriacs live there, in Southeastern Turkey, in Mesopotamia, which has been their homeland for thousands of years. Every time we think that here in the diaspora, we can breathe a sigh of relief, that it has now become better, calmer and safer for those who have remained, new death blows emerge.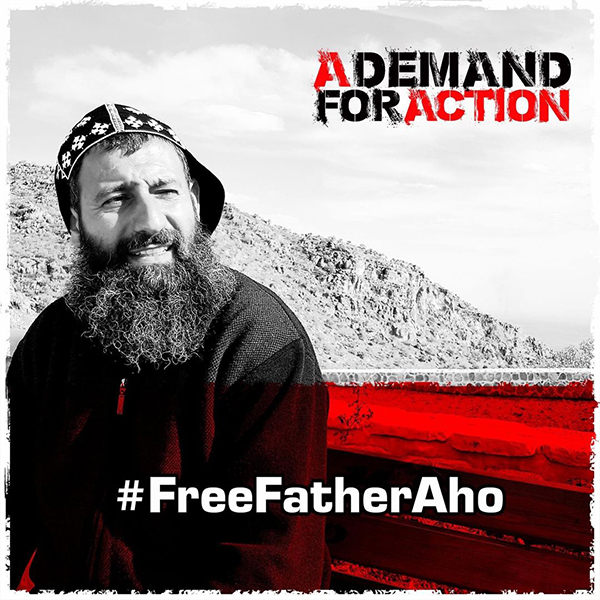 The verdict against Father Aho is probably the worst of them. Now our hope for the EU, the US government, the UN, Amnesty and others, is that he will be set free, the little humble, intellectual man who wishes everyone well. And who of course, provides bread and water to the needy.
Nuri Kino
Award-winning investigative journalist, author and founder of the human rights organization A Demand for Action.
Translated to English by journalist Daniela Babylonia Barhanna in Los Angeles.