El Anatsui is perhaps the most significant living African artist working on the continent today. A major new installation of his work will open at Tate Modern gallery in London in October 2023. The 79-year-old artist has become so renowned that in art circles his brand of work is a kind of art movement with its own name, Elism, writes Amuche Nnabueze from University of Nigeria.
The artist El Anatsui was born in Ghana and has spent the bulk of his career in Nigeria, but is a citizen of the world. News of a major new installation of his work coming to the prestigious Tate Modern gallery in London is just one in a string of major international exhibitions and awards in the past decade.
The 79-year-old artist has become so renowned that in art circles his brand of work is a kind of art movement with its own name, Elism. His work is influenced by – and in turn influences – Nigeria's famed Nsukka school of artists who draw inspiration from the uli art style, derived from the mural paintings of the Igbo people. Nsukka is the city where I live and make art and where I have taught El Anatsui's work to students for years – as he once taught me.
His best known works are large scale sculptures in the form of drapes, wall hangings and installations made from flattened, repurposed aluminium bottle caps that are sewn into tapestries, making them dazzle and shimmer in a mixture of hues and colours. The tactile quality gives it part of its sculptural relief. The colours and shapes also resonate with the Kente cloth motifs that are native to Anatsui's Ewe people.
His 2019 retrospective exhibition in Germany, Triumphant Scale, firmly established him as a leading global voice. It was co-curated by the late Okwui Enwezor, who is famed for bringing African art into the western mainstream.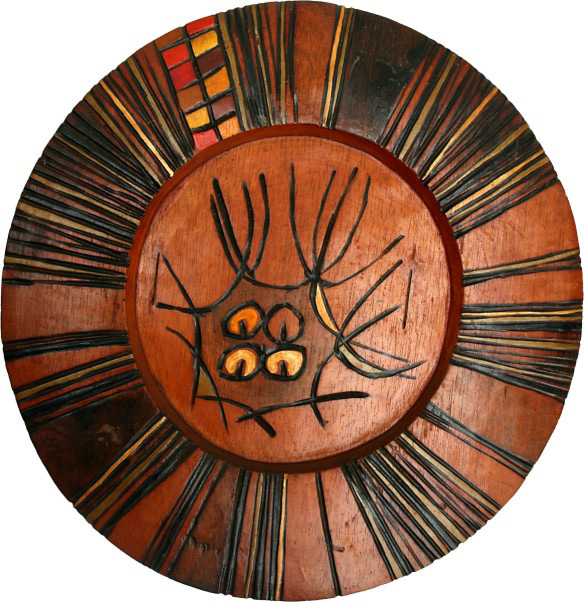 In truth, Anatsui's work has evolved steadily over time and it can take many forms. Compartmentalising it does not do justice to it. He has helped establish African art as a global force. But, as I also discuss here, he is much more than just an artist. El Anatsui is also a humanitarian, a teacher and a philanthropist.
His life
Anatsui is from Anyako, in the Volta region of Ghana. He identifies as Ewe, an ethnic group that extends up to Togo. His creative genes are probably inherited from his father, a craftsman. The last born of 32 children, he grew up with his uncle, a priest.
After completing his education in sculpture and art at Kwame Nkrumah University in Kumasi, Ghana, he worked as an art lecturer in Ghana for several years before moving to Nigeria. https://www.youtube.com/embed/ewLhOOkDZPA?wmode=transparent&start=0 El Anatsui discusses his work.
One cannot discuss Anatsui without mentioning Nsukka, a university town in Enugu State, south-eastern Nigeria. The University of Nigeria, the first indigenous university in the country, is located here and Anatsui today serves as emeritus professor in the faculty where I also teach.
He was 31 when he arrived in Nsukka 45 years ago and talks about that day with excitement, mentioning iconic cultural figures like activist musician Fela Kuti as one of the reasons he was attracted to Nigeria and decided to stay. Anatsui is honoured as Ikedire of Ihe-Nsukka kingdom, a chieftaincy title bestowed on him by the local community that points to the impact he has had here.
I first encountered Anatsui as an undergraduate in basic drawing class. In his class you realised that once you can draw a bold line then you can do great art. He could find the lone confident stroke embedded in a sea of others.
Anatsui was a member of the Aka group of artists who were popular in eastern Nigeria in the 1980s and 1990s. But he always looked to conquer the global art scene. He never subscribed to attaching artists to a particular continent. https://www.youtube.com/embed/_d3RIE195JI?wmode=transparent&start=55
After years of work as a lecturer and artist he built himself homes in Nsukka and in Tema, Ghana. It was only in 2018 that he felt he could buy himself a new car – in Nigeria most civil servants can only afford used cars. The large studio he built also points to years of consistent hard work.
Less known facts about Anatsui are that he eats a plant-based diet, is a masterful chess player and a sports enthusiast who plays squash. He is also better known in Nigeria as a philanthropist and a teacher than just an artist of global standing. One of the examples of his philanthropy is how, from 2017 till 2021, he gave young artists an all-expenses-paid trip to Senegal to attend the Dak'Art bienniale.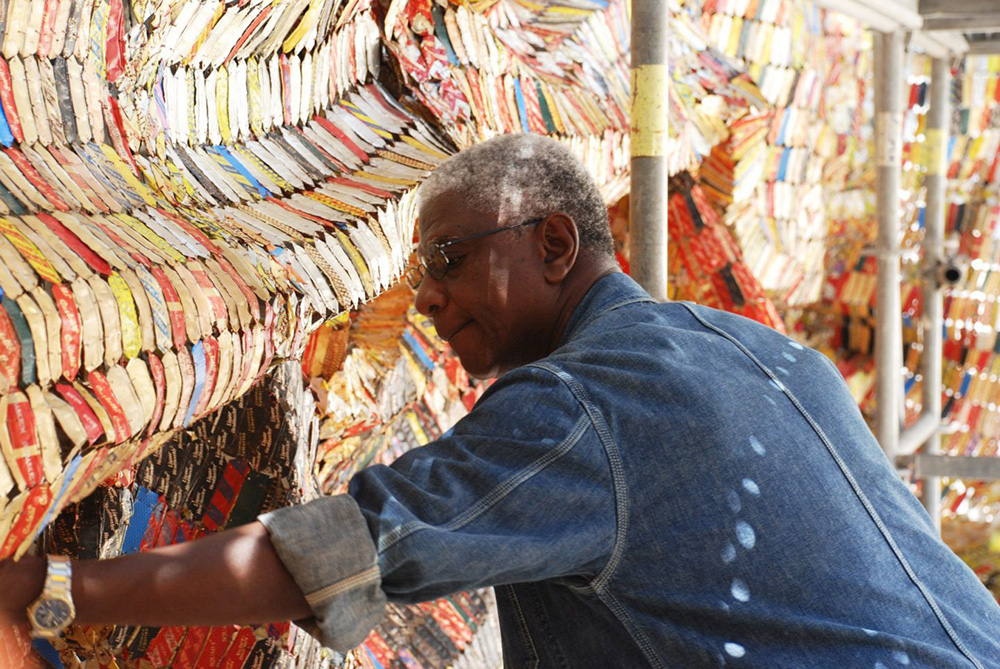 His work
Anatsui was creating three-dimensional works long before his famed bottle cap tapestries. His earliest works were made from wooden trays found in markets in Anyako. In Nsukka in the 1970s he created ceramic pieces from clay and manganese. In the 1980s he worked with concrete and terrazzo to produce sculptural works, some still found on the Nsukka campus. His hardwood works became popular and his influence expanded.
This creative restlessness to find materials from his environment led to the collecting of aluminium bottle caps that sat in bags for months before becoming art materials. The bottle caps suited a new art form, distinct from painting and sculpture.
Today Anatsui works in different media. He recently experimented with prints, the metaverse and augmented reality but still employs tropical hardwood works alongside bottle cap pieces.
In a time of climate crisis, Anatsui's work has become increasingly relevant through his sustainable sourcing of materials and his repurposing of found objects often discarded as waste.
No doubt his Tate installation in October will reflect his greater body of work: fluid, malleable, polymorphous, flexible and mesmerisingly colourful … the shimmer, size and materials speaking to freedom, mobility, decolonialism and environmental responsibility.
His influence
The Elism trend focuses on use of materials that are locally available, frugal and minimalist. However, the work is also an expression of humanist concepts – emanating from human activities in relation to the work and its environment.
While the scale of his bottle cap works speaks quietly to the magnitude of global consumption, it also presents aesthetic beauty rooted in ancient cultural forms. In his extraordinary career Anatsui has, in the process, helped bring African art to the world stage.
Amuche Nnabueze
Lecturer in Art and researcher, University of Nigeria
This article is republished from The Conversation under a Creative Commons license. Read the original article.
Read more: